WHEREVER, WHENEVER CUSTOMER ENGAGEMENT
With UD Contact Center, you can differentiate from the competition where it matters most – the customer experience.
Unified with UD Voice
This new unified platform experience gives every employee in your business the tools they need to work together and with customers to get their job done faster and easier than ever before in one application. As a result, you'll unlock:
Faster Service Speed - Advanced call management tools unified within Elevate give your users better tools to resolve customer calls faster.
Better Productivity - Let employees quickly and easily work with each other to help each other or a customer.
Better Service Quality - Supervisors have improved visibility into their customer experience and customer-facing users have better access to other employees.
Amazing Flexibility - Streamline onboarding and give any user immediate access to help manage customer calls instantly.
Key features of Unified UD Voice and Contact Center
One Application for Collaboration and Communication
The unified experience has everything employees need regardless of their role.
For Internal Collaboration
Employees that need to collaborate can do so quickly and easily using calls, meetings, chats, and file sharing.
For Internal Collaboration
Frontline users have all the tools (call queues, active call routing, contact directories) they need to:

Manage their active calls
Measure their performance
Collaborate internally while UNITE shields them from other calls.

When they're done, they can log out of their call queues and focus on getting other work done by using Elevate to collaborate with their peers.
Status/Presence Sync
Get faster customer call resolution with clear visibility into colleague availability across the organization and the ability to easily engage them to aid in customer interactions.
Advanced Voice Handling Capabilities in Unite
Get access to Advanced Voice Interaction Handling capabilities within Unite including:
Dialout – Make a call using and select what number you want to show in the caller ID
Automatic Scheduled Dialout Campaigns – Let frontline users participate in dialout campaigns that automatically initiates outbound calls based on a call list.
Inbound voice interactions – Let frontline users handle calls from multiple queues.
What is Interactive Voice Response (IVR)?
Interactive Voice Response (IVR) is an automated telephony system that interacts with callers, gathers information, and routes calls to the appropriate recipient. Some customers have more straight-forward concerns to address (e.g. checking an account balance or paying a bill), so the Contact Center IVR helps these customers self-serve without using up the time of a live agent. And when a customer's problem extends beyond the dynamic menu, the IVR system can quickly lead the caller to the most relevant agent available.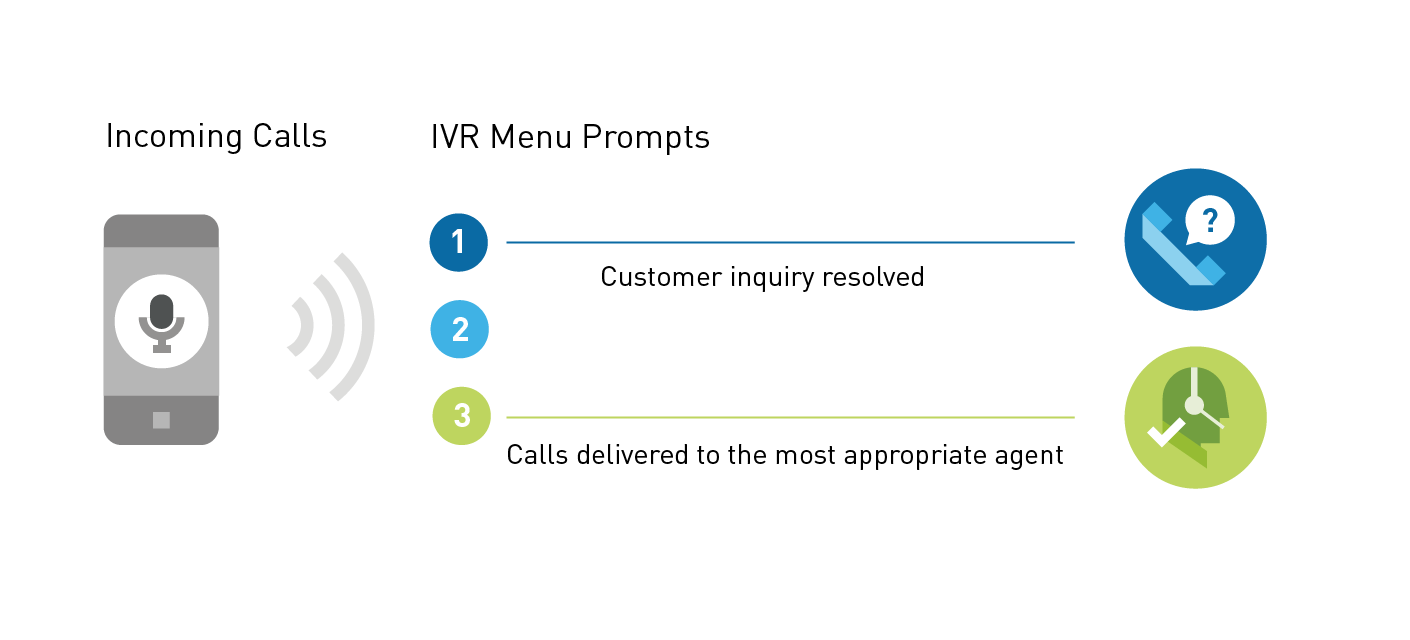 Key features of IVR
Streamlined IVR Deployment
Design IVRs that have everything you need, via a user-friendly toolkit that walks you through the process step by step. You can use Easy-IVR for new or existing IVRs. With an intuitive interface, guided workflow, and in-context tips, EasyIVR delivers greater ownership for Partners, reduced onboarding effort for customers, and faster time to billing.
CRM Integration
CRM integration helps agents personalize and better resolve customer calls using computer-telephony integration (CTI) screen pops. With integration for Salesforce and most CRM platforms available, the caller information your agent needs becomes automatically available right on their screen.
IVR Data & Call Info
Compiles call statistics on a queue-by-queue basis including total calls queued, handled, abandoned, voicemails, callbacks, min-max and average wait times, talk times, and wrap times. If needed, identifying data from the IVR system (account number, job number, etc.) can be associated with the call.
Outbound IVR Notification
Automated outbound IVR callouts can connect users to a queue to speak to an agent and can be scheduled to ensure you reach customers at a non-disruptive time.
Multi-Lingual Support
UD Voice IVR system includes multi-lingual support without the need for additional work or setup. I.e. Instead of setting up three individual call-flows for Spanish, French, and English, one call flow can work for all of them.
Private Data Collection
If a user doesn't want their credit card information to be heard directly by an agent, the UD system allows the agent to transfer that person to an IVR menu to input the information. The agent is kept up-to-date on the caller's progress, and when input is finished the caller returns to the agent uninterrupted.
IVR Technology and Industry Specific Use Cases
IVR & Banking
Surprisingly, as online channels have emerged, banking customer satisfaction has decreased. That's why many banking institutions have become reliant on hosted IVR technology for customer engagement. IVR supported telephone banking allows customers to check balances and transaction histories as well as to make payments and transfers. And not only can financial institutions more effectively interact with customers, but they can also extend business hours to a 24/7 operation.
IVR & Medical
IVR systems allow callers (patients) to obtain data relatively anonymously. Hospitals and clinics have used IVR solutions to help callers receive anonymous access to test results. This is information that could easily be handled by a person, but the IVR system is used to preserve privacy and avoid the potential embarrassment of sensitive information or test results.
Webchat
UD Voice  Contact Center's webchat offering (sometimes known as live chat) refreshes and modernizes the webchat experience to better meet contemporary expectations, providing an optimal chat experience even when agents are offline – which in turn boosts sales, captures more revenue, delivers higher customer satisfaction, and reduces churn.
Styling and appearance are greatly streamlined to allow for rapid deployment that can easily fit most website color schemes (custom CSS styling will still be offered) and light/ dark theme options.
Modern smartphones and tablets will render the webchat window properly and in an attractive manner, helping to engage more customers via this additional channel and respect contemporary device preferences. Interactive Chat Response (ICR) components, which serve visitors after-hours, will also receive these same enhancements.
For partners, providing webchat deployment or customization can lead to a higher level of ownership for customer success, accelerate overall Contact Center deployments, enhance customer loyalty, and potentially open new lines of business through providing a "used-everyday" communications component.
BENEFIT
Offer a chat experience optimized for modern preferences
Deliver a visually appealing chat function, aligned with the overall website design
Marketing (graymail) management helps users prioritize important messages
FEATURE

Auto-detection of device type (desktop, mobile, tablet, etc.)
Auto-application of width/height and border style
Can enable data collection (e-mail, phone number for callback, etc.)

Use config settings via UI, or upload custom CSS
Choose from light or dark themes
Offers 7 color schemes to choose from, or specify a custom HEX value

Supports existing chat activation modes (reactive, proactive, reactive/ proactive with or without invite)
Preview for other chat functions/ modes – waiting in queue, no agents available, etc.
Preview of main webchat forms
Dynamic Notifications
UD Voice  Dynamic Notification feature allows you to send outbound voice, SMS and email notifications so you can contact your customers using their preferred method of communication – or choose the most appropriate one.
Whether you use outbound notification for upsell, collections, appointment scheduling, customer care surveys or collections, highly versatile Dynamic Notification capabilities can be leveraged to deliver best-in-class results in any industry.
Top features include:
Voice, SMS, and email capable
Easy to use customizable and data-driven campaigns
Buildable library of notification templates
Appointment reminders with the option to confirm or connect to an agent for rescheduling
Tightly integrated with Contact Center features
Live dashboard reporting on campaign status
Ability to export reporting on completed campaigns
Text-to-speech voice notifications in 6 "voices" with English, French, and Spanish options
Highly scalable
Tremendous vertical-play positioning opportunities:
Healthcare: Appointment Reminders
Retail / B2C: Deliveries, Surveys, Promotions, Collections
Real Estate: Open Houses, Visits
Travel / Hospitality: Travel Date Reminders, Reservations, Orders
Services: Installation Notifications, Outages
Banking: Account Balance, Payments
Utilities: Robocall Activity, Installations, Outages, Updates, Collections
Education: General Notices, Information, Weather Alerts, Emergency Alerts
SMB: Promotional Offers, Upsell, Marketing Campaigns
Transportation: Pick-up Reminders, Scheduling
Agent Scheduling and Quality Assurance
Running a contact center isn't always easy. Managers must not only ensure that agent staffing and schedule adherence are sufficient to handle peak volume, but also ensure the quality of the service they deliver. UD Contact Center solution will provide your staff with the tools they need to meet—and exceed—your customer interaction objectives. From scheduling and monitoring to quality scoring and coaching, UD offers a suite of built-in tools to evaluate and help improve agent performance:
Built-in Schedule Manager
Integrate agent schedules and breaks
Manage events, vacations, and shift trades
Monitor schedule adherence in real-time
Generate reports to track conformance
Possibility to integrate with advanced forecasting solutions
Integrated Quality Assurance and monitoring tools
Call recording and Screen recording capabilities
Live monitor, whisper, barge-in features
View agent chat logs
Integration of custom evaluation grids
Agent evaluation notifications for coaching
Reporting and performance analysis features
Real-time display with threshold alerts
Real-time dashboards
Detailed queue & agent statistics
Scheduled reports
Customized contact center reports
Contact Center Analytics and Reporting
Managing contact center operations without full visibility on key metrics is not just difficult. It's impossible. While our real-time dashboards make it possible to monitor exactly what is going on right now, making informed staffing decisions often requires the ability to measure performance over different time intervals. With a library of hundreds of reports available right out of the box, and the ability to add custom reports, UD Voice Contact Center provides managers with the necessary agent performance and queue activity metrics to make the right decisions.
Ready-to-Use Reports
Daily, weekly, monthly and yearly Agent performance
Daily, weekly, monthly and yearly Queue performance
Detailed serviced, abandoned and missed calls reports
Classification and tracking reports
Inbound and Outbound Billing reports
Examples of available Custom Reports
First Call Resolution
Talk Time intervals
Daily Transfers by agent
Custom Call tracking
Weekly Department Report
Recognized for our products and service
ThePopeFirm SMS
2021-11-30
Unbound Digital has been a pleasure to do business with. Jason Miller, Hunter, Cody, Robert, and the entire team are always available to timely assist us with our IT matters. Highly recommend for a professional and smooth experience.
AMAZING DIGITAL SERVICES- I Highly recemmend
felicia hughes
2021-11-30
Best IT company we have ever worked with. We were in a mess with a previous IT company and Unbound Digital came in and got everything fixed and working perfectly within no time. We have had no issues and they call monthly to make sure we have no issues. It is amazing. Highly recommend Jason and his amazing team at Unbound Digital!!!
Brenda Gilliam
2021-11-30
Unbound Digital was such a great company to help me with getting a phone system in place which has allowed me to grow my business. They answer when I call and offers immediate assistance. Great group of professionals at this business.
I have worked with Unbound Digital now for a year with Holston Habitat for Humanity. Their staff is prompt, intelligent, and friendly. I highly recommend Unbound for business IT support!
Ashleigh Hillebrand
2021-11-29
The Team at Unbound Digital are prompt and thoroughly address any technical matters that arise. I am happy to know out of confidence in them that they are part of my Team's progress. Thanks, Unbound!
Jason and his crew are great to work with on your business needs. They are very courteous, professional, and promotion resolve your issues. They are the best!
I have called on Unbound countless times throughout the past two years. Let me tell you, they are not your average "tech" company as I don't recall a single time they have not delivered a remedy or provided me with a "how to" remedy. I enjoyed their tech support so much so, that when I was offered their newest phone system, I didn't hesitate, and neither should you. This company absolutely rocks and is worth every penny you eventually end up spending.
Heritage Baptist Johnson City, TN
2021-11-22
Excellent and knowledgeable service
Richard Griffin
2021-11-19
I have used Unbound Digital for years. Their service has always been great. I would highly recommend them.