WHEREVER, WHENEVER COMMUNICATIONS
Video | Phone | Chat | Contact Center | Files
UD Voice is a fully integrated cloud-based unified communications platform for small to medium businesses. We believe that people are the center of all communications and that tools facilitate that communication. Those tools should be easy-to-use, high-performing, and worry-free, so that you can focus on the interaction and not the tools.
UD Voice combines your phone system, chat, video, screen sharing, file management and conference calling into a seamless experience that fits with your business size, needs, and work style. 
UD Voice incorporates your business communication and collaboration methods and devices into one integrated, easy-to-manage system, including:
Remote Administration Tools and Management Features
With UD Voice, you can scale and manage your communications according to your company's needs. No more overspending on lines you don't need, or being constrained by unexpected growth. Order additional service and manage your employee phone, data backup, video and conferencing services through a single interface.
Whether your Unified Communications (UC) platform is managed by a dedicated IT professional, or simply assigned to the Office Manager, UD Voice is designed to cut down the amount of time they have to spend focusing on managing your systems.  
Here are some ways we work to make management of UD Voice easier and more efficient than other phone unified communications systems:
UD Voice Management Portal
ONE central location to manage system or endpoint settings
Enable or disable permissions system-wide, by group or by individual user
Add users, user phones, and phone numbers right from the portal
Set up auto attendants and groups according to business requirements
View/create hunt group reports
And much, much more
Auto Attendant
Greets callers and then directs them to the right person, department or information - 24 hours/day
Multiple and branched menus for business hours / after hours / weekends
Holiday menus to accommodate recurring special events as well as one-time events
Dial by name / by extension
Ability to ring multiple phones (in order or all at the same time)
Send voicemails to email
Calendar views of weekly and monthly routing schedules
Hunt Groups
Place incoming calls into set groups such as sales department, accounting, etc.
Calls are distributed according to managed setting: Round-robin, sequentially, longest idle, or all simultaneously
Can be configured to feature greetings, messages, and hold music
Users and administrators may log users in and out of groups
Hunt Group Reporting
Select/view data and view reports for entire groups or individual users
Track employee productivity with graphical data reports based on group or individual, and time
Includes statistics such as hold time, talk time, call duration, call volume, and other call metrics
PBX Phone System
In the past, installing a business PBX phone system required a huge expense, but it was the only way to get all the features a sophisticated company needs. Not only did you have to buy expensive and bulky PBX hardware, but you had to pay someone to install and maintain it. But you want the best small business phone system for your company, and phone systems have evolved. With UD Voice, you get support for high-definition (HD) audio along with features such as call park, call forwarding, 3-way calling, and a conference bridge. All you need to do is buy the pre-configured phones, connect them to the Internet and download the UD Voice apps.
What is PBX?
Private Branch Exchange (PBX) is a private system within a company that allows a business to manage multiple phone line extensions and calls within and outside of the company. Traditional PBX hardware technology, that makes call management possible, is generally stored physically on-premises within the company. Each phone extension connects by wire to the PBX terminal through a plug in the wall.
Enterprise-grade phone systems
UD Voice allows your company to plug into our PBX equipment through the cloud, saving you money and data space while providing your company with over 90 call features that present your SMB just like a Fortune 500 company. Features such as voicemail to email, hold & park, call transfer, and call recording will all be managed through your company's own private administrative portal.
Quality and Reliable Calls
You won't sacrifice quality for cost with Intermedia Unite. Intermedia has programs and processes in place to help assure high-quality calling, including customer site pre-qualification and constant real-time monitoring of our network for any quality of services (QoS) issues.
Business Continuity
When unforeseen emergencies strike (power outage, severe weather, theft, etc.) your business, UD Voice can help your business stay afloat by allowing you to forward calls to your mobile devices or to an off-site location. The key to surviving downtime is to maintain a working communications system. If your phones are up, you can still contact customers and preserve vital relationships while your business works towards getting back up and running.
Easy Installation
The best part, after the savings and added functionality, is the easy installation. Our expert onboarding team will easily guide you through the setup process. You don't need to be an expert. We will send you pre-configured phones that, once plugged into your internet connection, will be ready to go.
Phone Cost Savings
Lower your operating expenses by eliminating the need for expensive equipment and the technical experts needed to install, maintain and repair it. Get feature-rich phone service for a low monthly cost.
Spam Caller Protection
Spam Caller Protection is a free service for UD Voice customers. It detects calls from aggressive telemarketers and fraudsters and allows administrators to decide how to route these calls. Depending on your organization's preferences, you can tag these calls in the Caller ID screen, send them to voicemail, or block them. This protection extends to every Unite device, including the UD Voice desktop and mobile apps.
Envision Call Analytics provides your organization with the power to easily visualize the performance of your sales and support employees using your calling data. Through these visualizations, businesses can take specific actions to both optimize employee efficiency and improve customer engagement and experiences.
Track usage and performance of your remote sales and support teams.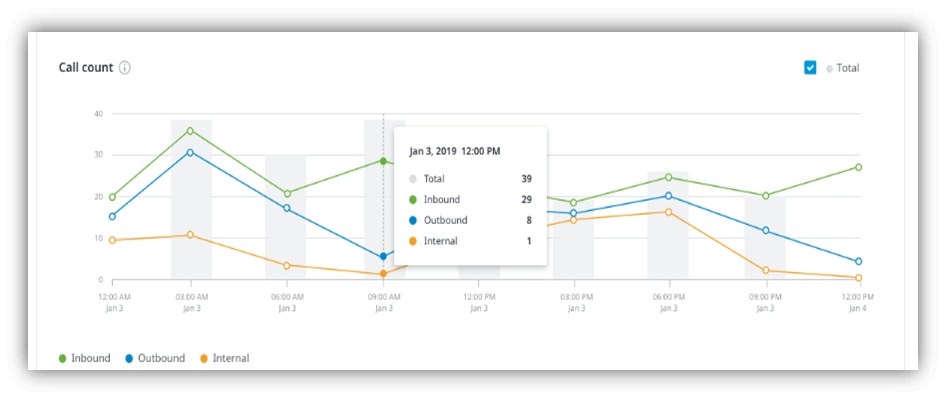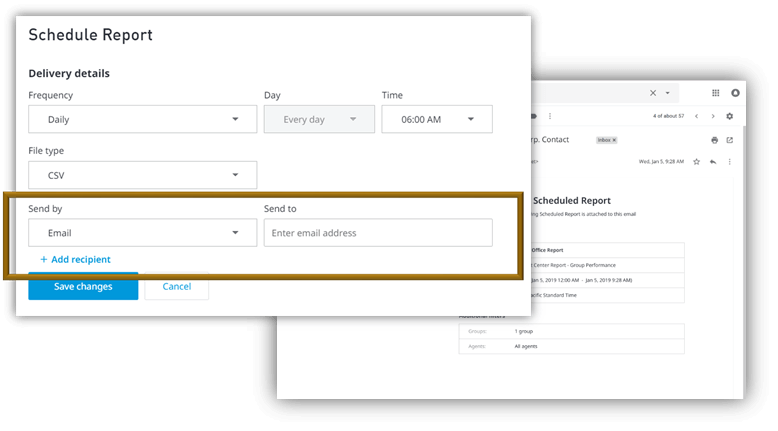 Save and schedule the reports which are most meaningful to your organization.
Upgrade to UD Voice Pro or Enterprise packages to increase the quality of your customer engagements with enhanced Agent Reporting.
Desktop App
The UD Voice Desktop App empowers employees with the flexibility to communicate the way that works best for them, right from their Mac or PC.
Efficiency
The UD Voice App brings essential collaboration tools together, making teamwork easier than ever. See who is available, send chats and text messages, place and receive calls, share screens, start video calls and share files—all from one application.
Ease of Use
The UD Voice Desktop App uses the corporate Active Directory to automatically create a contact list, which is used as a basis for most of the features of the App. Click the name on the contact tile to find more info from the Active Directory such as extension number, job title, department, office location, and email address. However, if you aren't exactly whom to call, just use the intuitive search feature. Whether you search by name, department, or location, you will find your contact - fast.
Flexibility
The UD Voice App empowers employees with the flexibility to communicate the way that works best for them: Softphone mode or Call Controller mode.
Softphone mode: Allows users to place and receive phone calls directly through a computer, helping them to collaborate more effectively by consolidating communications through a single device.
Call Controller mode: Acts like a remote control for the user's associated desk phone, empowering the employee to be more effective and efficient with call management.
Both modes include the following features:
Team Chat and Business SMS
Send and receive chats and text messages to colleagues and customers. Unlimited text messages can be sent to colleagues and customers across the United States, Canada, and Puerto Rico. Chats and text messages are securely encrypted in transit and at rest and will automatically sync across UD Voice Desktop and Mobile applications. Pin favorites to the top of your contact list and access full contact history at any time.
Contact Management
Manage company, customer, and personal contacts from your UD Voice Desktop Application.
File Collaboration
View the most current versions of files and share them easily and securely. Admins can maintain full control over files, users, devices, and sharing activities.
One-Click Meeting
Utilize One-Click Video Conferencing and Screen Share. Clicking on the Meeting tab within the desktop app displays your login credentials as well as a one-click launch button. Simply click the launch button to start an instance of AnyMeeting video conference or screen share.
Click-to-Call
The IUD Voice Desktop App is an extension of your desk phone. Calling is easy:
In the app, find your company contact in the list.
Hover over the name of the person you want to call.
Click on the app phone icon to immediately ring the extension of your contact.
If you're in Softphone mode, the call is made right from your laptop. If you're in Call Controller mode, your desk phone will ring—answer it, then the call is connected.
Manage Active Calls
Choose from several options while in an active call including placing additional calls, rejecting calls, sending calls to voicemail, Call Flip, call transferring and call park.
Manage Multiple Calls
The UD Voice Desktop App makes managing calls easier. Just click on the related avatar tabs to manage any particular call.
Warm/Blind Transfers
Call transfer is a snap. Three types of transfers are available through the UD Voice Desktop App:
Blind transfer. Transfer the call immediately to another party without introducing the call.
Warm transfer. Call another party, and transfer the call after introducing the call to the new party.
Transfer to Voicemail. Transfer the call immediately to another party's voicemail.
Call Park
Park calls with a single click. You will hear and see the parked extension number so that the call can be picked up from a different location.
Status Indicator
UD desk phones have the ability to see whether your company contact is available, or busy on the phone. Desktop phones include a busy lamp field (BLF) in the LCD display that includes status availability information. The UD desktop displays status information alongside each contact in the Active Directory.
Call Flip
Move between your desk and mobile phone with ease. For example, need to get to an appointment… but your desk phone call is running over? Transfer your call from your desk phone to the UD Voice Mobile App - without disconnecting your call. Simply hit the Flip icon. The other party will hear hold music until you pick up the new device.
Call History
Check to see whom you had past conversations with or whom you missed while away. Just click the tab, and your call history for the last 90 days will appear in a list, most recent call first. Call history displays contact name (or CNAM if not in Active Directory,) time and date they called. You may filter to display only missed calls if desired, and place calls directly from call history.
Mobile App for Business
Take your business phone with you.
Mobile workers now have instant access to their corporate phone extension – anywhere, anytime, and on any device.
UD Voice  Mobile App Benefits
Integrated, searchable corporate phone directory
Easily chat with colleagues — individuals and groups
Management of multiple calls at once
Voicemail with transcription
One-touch transfer to desk phone with the Call Flip feature
Advanced calling features such as call transferring, hold, Call Flip, FindMe/FollowMe, and more...
Team Chat and Business SMS
Send and receive chats and text messages to colleagues and customers. Unlimited text messages can be sent to colleagues and customers across the United States, Canada, and Puerto Rico. Chats and text messages are securely encrypted in transit and at rest and will automatically sync across Unite Desktop and Mobile applications.
Contact Sync
Contact Sync: From your mobile device ( iOS®, Android®) sync your contacts from popular third-party platforms (Office 365®, G-Suite™, and more) to all your Unite Apps.
Contact synchronization must be initiated from your Unite mobile application.
Call Management, Holds, and Call Transferring
Use your mobile device just like your desk phone. Manage, hold, and transfer calls with just a tap or two. Easily switch between calls, transfer calls via warm or blind transfer, check call history, and put calls on speaker.
Call Flip
Move between your desk and mobile phones with ease. Transfer your call from your mobile app to your desk phone, or vice versa – without disconnecting your call. Simply tap the Call Flip icon, then pick up the call on your other phone.
Voicemail
Easily manage your voicemail. Get all the most important options you regularly use at your desk right on your mobile device: playback, forwarding, deleting, and voicemail transcription.
Find Me / Follow Me
Make sure callers can reach you anywhere, anytime, on any device. Rings your desk phone, mobile phone, and desktop app phone at the same time, so you won't miss important calls. Create rules around how you like to receive business calls.
Mobile Assistant - Coming soon!
Be more productive with your phone system. Get recommendations for custom calling rules based on your calling patterns, preferences, time of day, meeting status, location, and more.
Video Conferencing
When you can't be there in person, web video conferencing bridges the gap. With our unified communications video conferencing service, you can host a video conference with screen sharing and have attendees join a custom URL via phone, mobile or desktop.
Browser-Based
Our browser-based app means no downloading, so meetings start super quick and get productive fast! Using the latest HTML5 and WebRTC technology in modern browsers, we eliminate the need for plugins or installations. Older browsers are also supported as viewers and can easily dial-in for the audio.
HD Video Conferencing
720p HD Video Conferencing for up to 4 participants with 4 video feeds. If your meeting has more attendees than that, they can easily take turns on video as needed. Layouts adjust automatically for optimal size and viewing experience. It's almost like being in the same room. The optional upgrade to AnyMeeting Pro enables meetings for up to 30 participants with 6 video feeds.
Built-in Phone Conferencing
Your AnyMeeting account includes a conference call number and PIN codes, so participants can join by phone or computer.
Screen Sharing
Simply share your screen and display the document you'd like to share – it's that easy. Share anything that can be displayed on your computer, including PowerPoint®, Excel®, Word and web pages.
Screen Annotation
As a meeting presenter, you can give attendees the ability to draw on your shared screen and engage with your content.
Team Chat
UD Voice Team Chat provides teams with the tools they need to communicate, collaborate, and get work done. The best part? Chat messages sync across desktop and mobile applications—so teams can stay connected, from wherever they work.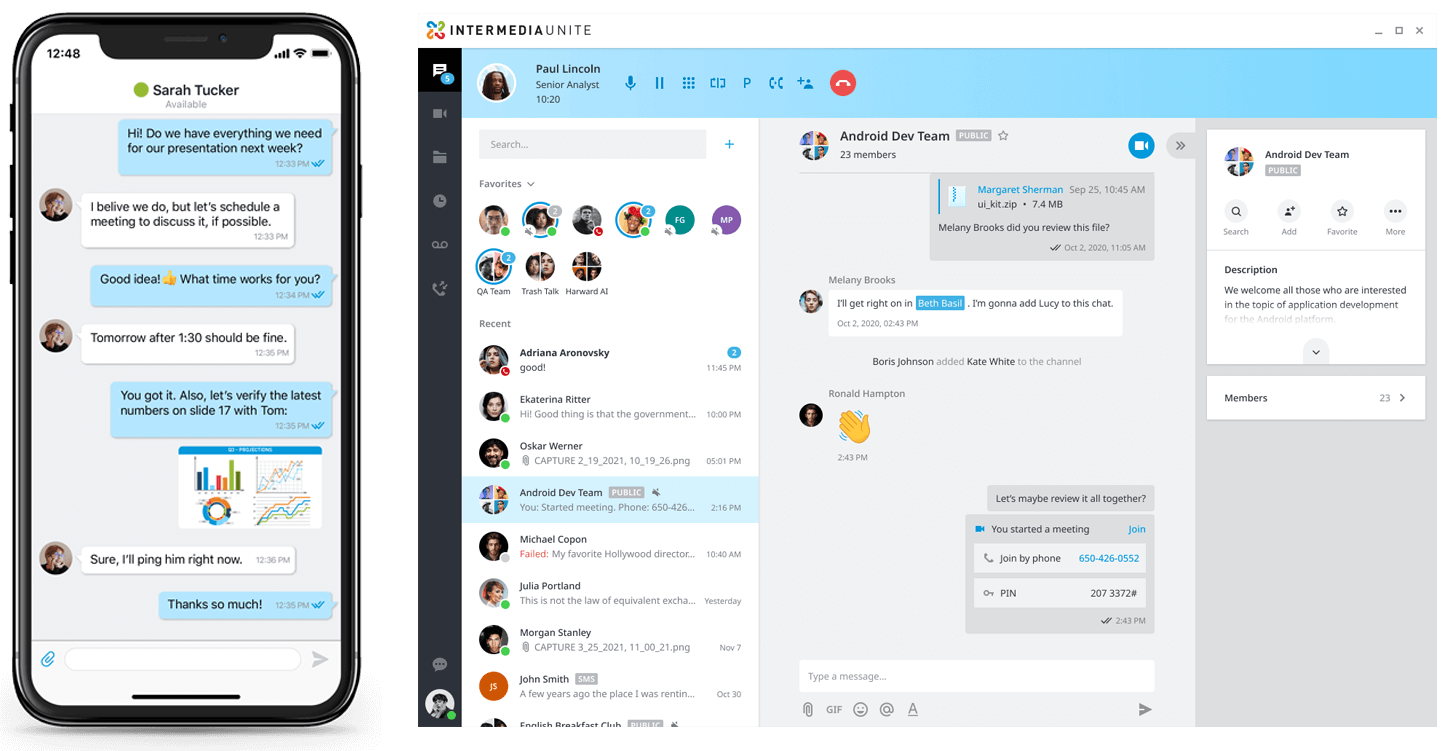 Direct message
Connect with a colleague 1:1 to work on a project.
Channels 
Teams can organize conversations on specific topics into public and private chats. Members of the channel can share files, meet, and collaborate in this dedicated space.
Public channels are open to anyone in your organization to search and join. Examples include a place to host company announcements, product feedback, off-topic conversations, and more.
Private Channels are by invitation only and are meant for groups to discuss specific topics only appropriate to the members of that group.
Business SMS 
Send and receive unlimited text messages to US, Canada and Puerto Rico to communicate more effectively with customers.*
Rich Text Editor 
Format messages to add clarity, call out important information, and better emphasize your message.
Replies
Chat messages can move quickly, and often by the time you want to reply, the chat has moved on. You can go back and send inline replies to specific messages to ask clarifying questions and carry-on multiple conversations in the same chat.
@mentions 
Ask a specific teammate a question or get their attention in a channel using @mentions. The individual will receive a notification, while the rest of the channel members can follow along -- providing more context and transparency in group conversations.
Chat Search 
Search chat history for the relevant messages, files or links you need to get work done.  
Gifs and Emojis 
Use GIFs and emojis for more engaging (and fun!) conversations. 
Files 
Quickly drag and drop files into any message to get feedback and collaborate on projects. Files shared in any chat will remain indefinitely, and members can reference them from the "files tab" whenever they need to access them again.
Meet in HD Video
Quickly hop from a chat conversation to a video conference where you can meet face-to-face, share your screen, and collaborate on projects in real-time. 
Screen Share
Now you can hold screen sharing meetings with team members or externally in real-time, improving collaboration and speed of decision making. Simply start the online screen share and display the content you'd like to share – it's that easy. Desktop or screen sharing can be displayed on your computer, including PowerPoint, Excel, Word and web pages.
Browser Based
Our browser-based app means no downloading, so meetings start super quick and get productive fast! Using the latest HTML5 and WebRTC technology in modern browsers, we eliminate the need for plugins or installations. Older browsers are also supported as viewers, and can easily dial-in for the audio.
Built-in Phone Conferencing
Your Any Meeting account includes a conference call number and PIN codes, so participants can join by phone or computer.
HD Video Conferencing
720p HD Video Conferencing with up to 200 others. If your meeting has more participants than that, they can easily take turns on video as needed. Layouts adjust automatically for optimal size and viewing experience. It's almost like being there. Screen sharing conference calls can be quickly created by sharing a custom URL that gives the recipients easy access to call-in numbers and sharing options.
Virtual Voicemail
UD voicemail can be managed and accessed according to user needs. Listen and manage from the desktop phone, or through the mobile app. Transcribed voicemail messages can be sent via email, or viewed on the mobile app. And you can receive or forward voicemail as a downloadable email attachment.
Features include the following:
Check voicemail online
SMS notifications
Voicemail transcription
Forward voicemail
Message waiting indication
Delete, skip or save messages
Voicemail to email via WAV file
Auto-delete of voicemail after 90 days
Playback control when receiving messages
Change personal greeting and PIN
Online Faxing
UD Voice WebFax is a "virtual" or online fax service that allows users to receive and manage faxes from their computer, via the web. It allows document sharing and transmits faxes directly from a Windows-based PC. Senders simply dial the WebFax number from their fax machine, as they normally would.
Features include the following:
Users receive, view, and manage faxes via the web, or as email attachments
Users may send faxes from any Internet-connected PC
Does not require an additional phone line
File Backup and Collaboration
UD Voice makes it easy for teams to work together, no matter how many miles apart they may be. Every user gets 2GB of SecuriSync® file storage included, so colleagues can work seamlessly on projects together, providing access to the most current version of files to allow teammates to co-edit in real-time. They'll be able to access files from desktops, laptops, smartphones, tablets, file servers, and the web, with full control over all functions including file management, users, devices, and sharing activities. For greater ease, users can access file server content from mobile devices without a VPN.
UD also helps ensure that those files stay safe on the network. We offer real-time backup of all files, mobile photos, and videos, and point-in-time file restoration for quick recovery from ransomware and other types of data loss. File Server Sync is used to backup and sync files from an existing Windows file server to SecuriSync, our secure online file backup and storage product.
Bring Your Own Phone (BYOP)
Does your company already have phones? Intermedia Unite offers two Bring Your Own Phones (BYOP) small business phone solutions.
The Enhanced BYOP Program enables you to use approved phones that were already existing or procured elsewhere, and still get the full use and functionality of the built-in features of Intermedia Unite. See the full approved phone list for the Enhanced BYOP program.
Alternatively, with the AnyPhone BYOP Program, any SIP device not on the approved list may still be used in conjunction with UD Voice. However, any device not on the approved list is not guaranteed to work seamlessly with all UD features. The AnyPhone BYOP program allows customers to include third-party products such as softphones and paging devices into their cloud voice solution.
Business integrations
UD Voice Extend, Unite's integrations platform, connects powerful voice, chat, video conferencing and contact center functionalities into everyday business applications like Google®, Microsoft®, Salesforce®, and more — driving higher productivity and increasing customer retention with no heavy costs.
Call Center Features
Just a single unpleasant call experience can cause a customer to take their business elsewhere – and worse yet – post details about that experience online. UD Voice Pro and Enterprise subscriptions make a direct and lasting impact on customer satisfaction by helping businesses to cut hold times, increasing call effectiveness, and improving your employees' ability to resolve issues quickly.
Plus, the Call Analytics and Reporting included with Unite gives your business the insights to make better staffing and coaching decisions for your employees - using real-time data to track employee and customer engagement activities.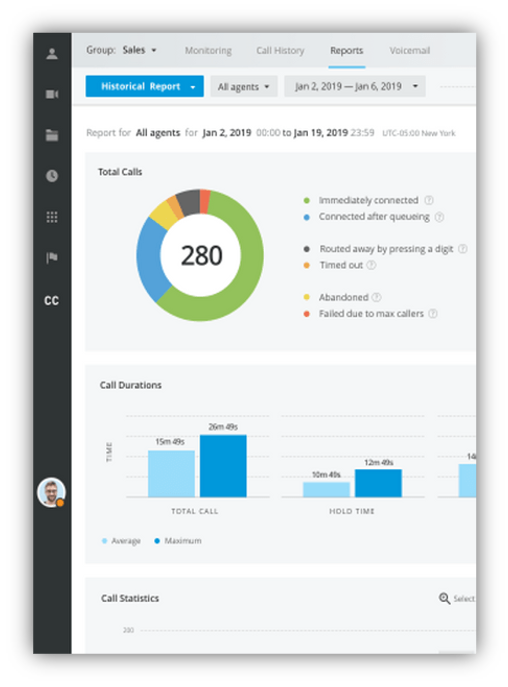 Included Call Center Features (Pro and Enterprise only)
These call center features are included free with every Elevate Pro and Enterprise subscription. Agents and supervisors continue to use the same easy-to-use Elevate Desktop App.
AUTOMATED ATTENDANT
Immediately answers and routes incoming customer calls to the right group, or to a specific agent.
Answers and routes calls 24 hours per day, 7 days a week.
Customized calendars for specialized routing according to business hours, holidays, special events, and more.
---
SUPERVISOR IN-CALL ASSISTANCE
Allows supervisors to monitor, assist or join ongoing calls in order to assist in coaching, and to enhance employee effectiveness as well as the customer experience.
Monitor to listen to a live call
Whisper to assist an agent without the customer hearing
Barge to join a live call as a participant.
---
TRACKING & ANALYTICS
Get a clear insight into the calling effectiveness and efficiency of individual employees, as well as the entire organization.
Agent/Group Activity Reporting
Historical Reporting and Report Scheduling
Current Agent and Queue Status
Real-time Call Statistics Dashboard suitable for both desktop or wallboard.
Overview
Comprehensive Voice Security
UD Voice keeps your business communications secure
You can feel confident that your private data is safe with Intermedia. Our system utilizes state-of-the-art technologies which constantly monitor for, and defend against, malicious intruders.
Top-tier super-secure datacenters
UD Voice Cloud is hosted in geographically dispersed, highly secure and monitored datacenters by top tier certified providers.
Each of UD Voice world-class datacenters adheres to strict standards in physical security. Each datacenter is closely monitored and guarded 24/7/365 with sophisticated pan/tilt closed-circuit TVs. Secure access is strictly enforced using the latest technology, including electronic man-trap devices between lobby and datacenter, motion sensors and controlled ID key-cards. Security guards are stationed at the entrance to each site.
The UD network is protected from intrusion.
UD Voice uses multiple redundant, enterprise-class firewall systems to help prevent unwarranted intrusions and to help ensure only authorized users access your cloud environment. This purpose-built security system integrates firewall, VPN and traffic management.
We also run multiple intrusion protection systems (IPS) (both host and network) to help detect and deter malicious network traffic and computer usage that often cannot be caught by a conventional firewall. The system monitors for unusual traffic patterns and alerts system administrators of any suspicious behavior.
IPS can also help prevent network attacks against vulnerable services; data driven attacks on applications; host-based attacks such as privilege escalation; unauthorized logins and access to sensitive files; and malware (e.g. viruses, Trojan horses, and worms).
Other network security highlights:
Commercial-grade edge routers are configured to resist IP-based network attacks
UD Voice subscribes to Distributed Denial of Service (DDoS) protection through a leading provider of network security
Production network is physically and logically separated with highly restricted access and multiple authentication levels
Operational functions include: monitoring, system hardening, and vulnerability scans
Secure handset protection
To verify that phones and devices are secure from cyber threats and attacks like eavesdropping, we require strong passwords on all SIP endpoints.
Each device is securely provisioned using "HTTPS" with mutual authentication to prevent intrusion.
Two-Factor Authentication for Unite Apps
The Desktop and Mobile Apps from Intermedia allow users to use their UD business phone system while working remotely or while on the go. These apps require a login and password and also require 2-factor authentication for access.
Transport Layer Security (TLS)
TLS provides end-to-end communications security over networks and is widely used for internet communications and online transactions. It helps prevent eavesdropping, tampering and message forgery. TLS is an available setting for users, and can be activated from within the UD Mobile App.
Spam Caller Protection
Every account is enabled with Spam Caller Protection – helping to keep you and your employees free from calls originated by autodialers and known fraudsters. To learn more see article about Spam Caller Protection.
Automated 24/7 Toll Fraud Detection keeps external fraudsters at bay.
UD Voice monitors call patterns to international (and high-cost) locations on a constant basis and continually looks to improve our fraud monitoring systems.
If any customer exceeds the call thresholds for any international areas, UD will disable international calling, and send an email notification to the customer informing them that international calling has been disabled based on possible fraudulent activity. To protect the customer, we will not enable international calling until the account holder has given UD Voice authorization.
Recognized for our products and service
ThePopeFirm SMS
2021-11-30
Unbound Digital has been a pleasure to do business with. Jason Miller, Hunter, Cody, Robert, and the entire team are always available to timely assist us with our IT matters. Highly recommend for a professional and smooth experience.
AMAZING DIGITAL SERVICES- I Highly recemmend
felicia hughes
2021-11-30
Best IT company we have ever worked with. We were in a mess with a previous IT company and Unbound Digital came in and got everything fixed and working perfectly within no time. We have had no issues and they call monthly to make sure we have no issues. It is amazing. Highly recommend Jason and his amazing team at Unbound Digital!!!
Brenda Gilliam
2021-11-30
Unbound Digital was such a great company to help me with getting a phone system in place which has allowed me to grow my business. They answer when I call and offers immediate assistance. Great group of professionals at this business.
I have worked with Unbound Digital now for a year with Holston Habitat for Humanity. Their staff is prompt, intelligent, and friendly. I highly recommend Unbound for business IT support!
Ashleigh Hillebrand
2021-11-29
The Team at Unbound Digital are prompt and thoroughly address any technical matters that arise. I am happy to know out of confidence in them that they are part of my Team's progress. Thanks, Unbound!
Jason and his crew are great to work with on your business needs. They are very courteous, professional, and promotion resolve your issues. They are the best!
I have called on Unbound countless times throughout the past two years. Let me tell you, they are not your average "tech" company as I don't recall a single time they have not delivered a remedy or provided me with a "how to" remedy. I enjoyed their tech support so much so, that when I was offered their newest phone system, I didn't hesitate, and neither should you. This company absolutely rocks and is worth every penny you eventually end up spending.
Heritage Baptist Johnson City, TN
2021-11-22
Excellent and knowledgeable service
Richard Griffin
2021-11-19
I have used Unbound Digital for years. Their service has always been great. I would highly recommend them.